HISTORY
VNIIBT-Drilling Tools Ltd. was established in 2003 on the basis of the Perm Branch of the All-Russian Research Institute of Drilling Technique (PB VNIIBT) founded on November 26, 1963 pursuant to the USSR Council of Ministers Decree no. 109 of January 26, 1963 "On measures to improve oil exploration work and oil production increase in the Perm Region for 1963-1965".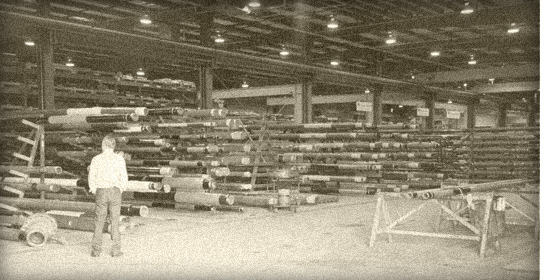 The place of company establishment was predetermined by location of all the Perm Region machinery plants producing turbodrills.

For the first time the company decided current drilling issues in the Urals and Volga River regions. The enterprise implemented steerable turbines, worked out turbine drilling practices using diamond bits and improved turbine drilling methods. However the main task was creation of low-speed downhole motors for oil and gas wells drilling. Research works had two directions: positive displacement mud motors and geared turbodrills.


1966: the Company's specialists for the first time in the world developed and tested down hole mud motor where multi-lobe gear-rotor mechanism was used as power section. This mechanism functioned as hydraulic motor and planetary gear-box simultaneously.
1967-1971: motors pilot lots of D1-172, D2-172М and D-85 models were tested on test benches and in wells. In 1973 The Interdepartmental Commission approved serial production of D2-172М and D-85 down hole motors, D1-195 motor in 1980, D3-172 motor in 1986, and D2-195, D1-127, D1-88 motors in 1987.
1979: serial production of the geared turbodrill, line TRM-195, was started. With the help of this turbodrill the Kola super-deep well was drilled in 1983.
1980-1984: the company became well known and recognized abroad thanks to its professional competence. During this period 4 licenses were sold to Drillex company. Drillex was enabled to produce D1-195, D3-172, D-240, D-85 and D-54 down hole mud motors.
1993: the Company sold licenses to Kungur and Pavlovsk machinery plants entitling them to the production of D1-88, D1-105, D1-127, D5-172, D2-195, D1-240 motors.
1994: the geared turbodrill department was separated from the Perm Branch and Neftegaztechnika Scientific and Production Company was found on its basis.
Since 1998 the Perm Branch of VNIIBT incorporated into Drilling Technique Scientific and Production Organization affiliates with OMZ Corporation. Work for the Corporation gave new incentive to the Company development: production volume and number of personnel increased significantly.
2000: production shop was put into operation and series manufacturing of hydraulic motors repair equipment was started: K-2, K-10 make-up and break-out units; SR-35, SR-70 pressing-out test stands; SOI-250, SOI-500 running test stands. The Company produces up to 20 sets of down hole motors repair equipment every year.
Based on the 2001-2002 performance results the VNIIBT Perm Branch was twice Winner in "Management Leader of the Kama Region" competition in nominations "For the dynamic enterprise development" and "For the contribution to the Kama Region economy and social stability". The Company was winner of the regional competitions "Industrial Leader of the Kama Region in 2002" and "The best Perm company on production efficiency and social issues decision in 2003". In 2002 the Perm Branch of VNIIBT was entered into the "Gold Book of Russia".
2003: new business unit named VNIIBT-Drilling Tools was established. It incorporates VNIIBT-Drilling Tools in Perm, Drilling Technique SPO (Moscow), Pavlovsky mashinery Plant (Pavlovsk, Permsky Krai), Kotovo Branch of VNIIBT-Drilling Tools (Kotovo city, Volgograd Region).
Since 2005 we are incorporated into Integra Group of Companies.